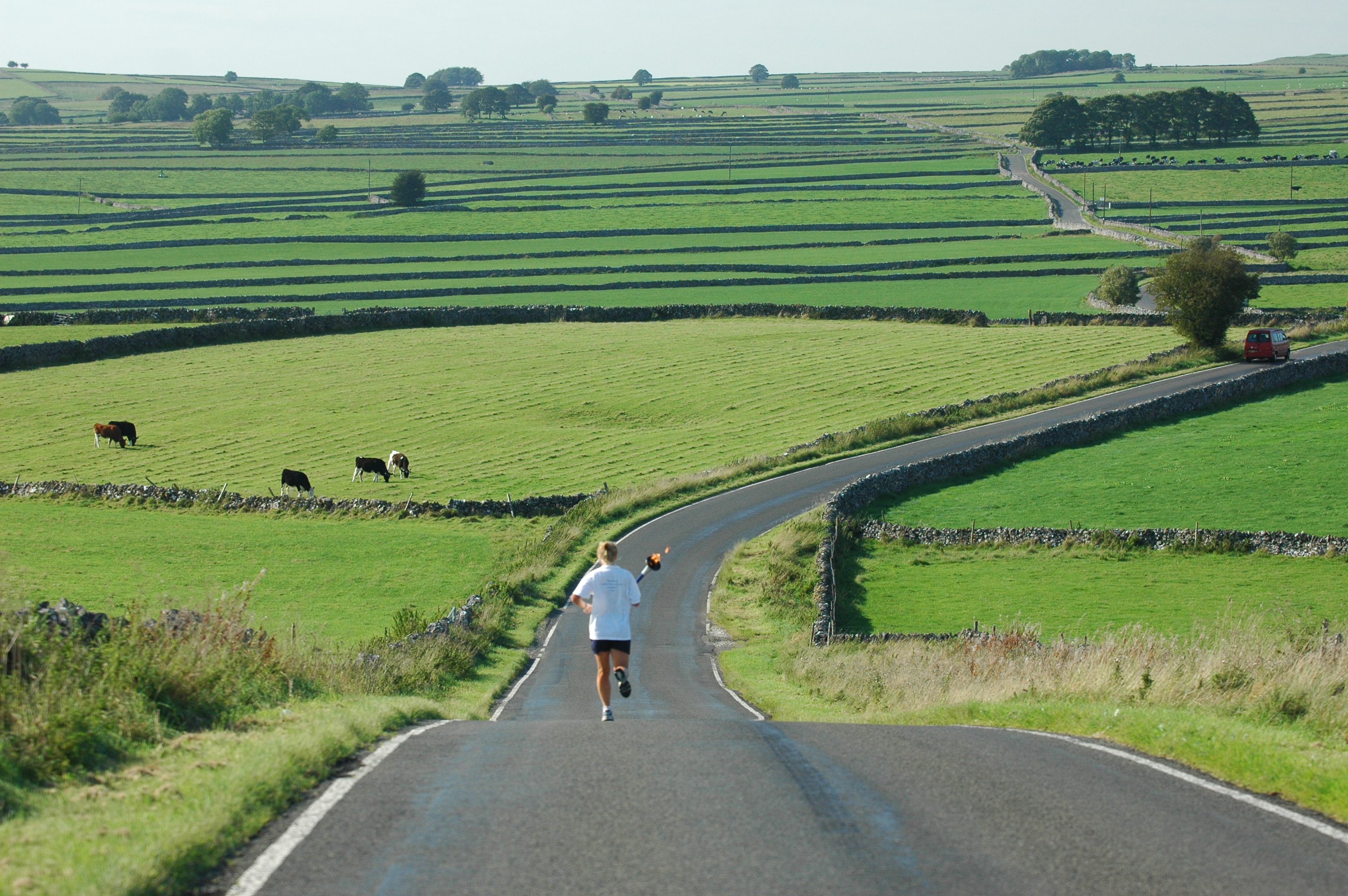 The following words are from Mr. Michael Schulman – a man who dominates marathons, knows his way around a kettlebell, and even helped me log a few runs past my standard 10 minutes.  While running isn't my cup of tea, I'm fascinated with the physical and mental training that endurance events require. Here's a race day story from the Asheville marathon and a few tips for entering the ranks of the long-winded.
It's March 3, 2013. The alarm has gone off and it's 4:45 AM. The race does not begin for
another 2.5 hours, but I want to be sure I have my list of pre­race activities and necessities
completed. running gear: check, protein bar: check, hand­held water bottle: check, car keys: check, dad awake and ready with the same things: check. Time to gather ourselves together and face the cold of the mountains. We step out into the parking lot of the hotel and it's clearly flurrying with a nice, strong headwind. Just at a guess I would say it's 28, 30 maybe without the wind chill? I look at the phone weather app and it's 26 without a windchill with a high of only 30. I am a cold weather guy through and through. I always tell people it's much easier running in the cold because your core temperature does not rise as easily, so you don't get winded and fatigued as quickly. This is cold beyond uncomfortable however. My normal cold­weather garb (beanie, gloves, a long­sleeve over a short­sleeve and running shorts) is pretty laughable by the time we get to the parking lot near the starting line. It's still early, so there are only a few others there but they are all dressed like runner­eskimos. The staging area has a tent that Dad and I immediately head for just to get out of the unbearable wind. Every single person is huddled in a group to talk, be near others, or do anything else to take their mind off of how cold and early it is.
Time crawls by for two more hours and finally, it's time to step out to the finish line and
psych ourselves up for the 4+ hour adventure. It's now 7:15 AM and all I can think is "I can't believe it's still this cold." My nose has been running since we left the hotel, my hands hurt, and I feel either of my feet. Despite all of this, I am beyond excited. This is my 5th marathon, I get to run it with my dad who got me started with this craziness when I was 16, I'm in one of my favorite cities and my girlfriend is going to be waiting for me at the finish line in a few hours. Time to get my head in the game though. I have at least 4 hours worth of constant movement ahead of me and need to focus. Before the gun goes off however, it was impossible not to notice the crazy SOB in shorts and a tank top looking much more comfortable than any of the rest of us. "I hope I look even half as content by the end of this as that guy."
Race Time
The gun has goes off and we all collectively cheer, clap, and smile. Even the incredibly
generous crowd of family, friends, and race organizers who have even less reason than us to be up this early in the cold are ecstatic. I walk with my fellow runners to the starting line and as soon as we cross the threshold, I begin a leisurely pace. It's important to remember at the beginning of a 26.2 mile race that unless you are planning on winning, there is no reason to go full out right away. For the first 6 miles as I trot through the beautiful hills on the Biltmore Estate grounds I have only two persistent thoughts: good pace so far and sweet Jesus I still can't feel my feet. Mile 6 brings us by the Biltmore house and our first photo­op. The house itself is always a grand sight and since I'm still outwardly happy at this point, I seize the photographic opportunity and give the camera­man a double thumbs up.
Miles 7­-10 are much the same, a good leisurely pace and I'm feeling good. I even strike up conversation with a fellow runner about how much we would love a hot cup of black coffee. We commented on this wonderful prospect after we both commented on those "way too freaking cheery" crowd supporters and how they would be so damn cheery if we swapped places. She tells me she is holding her current pace because she is running another marathon just a week later in South Carolina. I say "Oh that's cool, good for you! I certainly couldn't do that." I think "You're crazy and asking for an injury or just a general shitty feeling by this time next weekend." I make my first pit­stop at a port-a-­potty 12 miles in and do a self­survey. I am feeling good still, but I can tell now that the "trail" terrain has taken over, I may not say the same in a few miles.
The path has gone from asphalt to gravel, to straight­up rocky and I'm at the halfway mark.
Generally I find the easiest way to keep moving at a running/jogging pace is to limit
walk­stops to a minimum. The bathroom stop only made it easier to start a walking trend later, however necessary it was. When I begin my descent down mile 14, I pass a large crowd of runners and it dawns on me that there is a turn­around ahead. Another much appreciated race strategy is being able to take in a visually dynamic scene over the course. In other words, I am not a fan of turn arounds and repeating the same path. Unfortunately, the last half of this race was full of them. Miles 15-­17 are brand new and makes it much easier to keep my spirits and mind up instead of focusing on how cold it still is and how much my left ankle is beginning to hurt.
We are approaching what looks to me like a bridge with a large crowd and I think "Yes,
spectators and cheery people! This is exactly what I need!". As I approach there is a volunteer standing on our side of said bridge yelling "Mile 21 turn left here, mile 18 straight ahead!". "DAMN!" I scream in my head. I keep trudging forward and what seems like an eternity later, I see a sign for mile 20. The sign is definitely accurate, but there is no way I've gone two more already. There is another friendly volunteer sitting adjacent to said sign whom I ask "Is this really mile 20?". He happily replies, "Not until you've passed me twice!". "@#$%" and I trudge on. After another eternity I finally pass him again and I begin making my way toward mile 21 bridge again. This time I can finally make that glorious left turn and its only a measly 5 miles left! But dear God it's still 30 degrees, it's still flurrying, there is still a ridiculous headwind, and there are 5 miles left…
Thankfully after two more miles I've gotten away from the accursed gravel and back to
even terrain and pavement. Three more to go and FINALLY the sun has decided to peek from behind the clouds. Another self­survey. Everything is still painfully cold, my legs are killing me from the uneven terrain, but I can see the sun and hear the loudspeakers at the finish line! My stops to walk have grown progressively more frequent over the course. Even if I only walk for a few seconds, I am doing it a lot more often than I would like. And to top this off, each oh­-so-­happy spectator I pass reminds me "Oh it's so close, keep it up!" Much as my rational brain appreciates these crazy people standing in the cold to support us, my irrational one wants to complain and maybe let loose an obscenity or two. I admit it does help more than it hurts however. The louder the speaker gets, the more encouraging it becomes. I pass the glorious mile 25 sign and I dig deep to find the energy to bang out this last 1.2 miles.

The last mile takes me right through the parking lot I fridgidly passed through that same
morning. I can see the finish line is right around one final bend and as I make this turn I catch a glimpse of the finish line clock. Throughout the entirety of this race I could have cared less about my finishing time. A sub 4:30:00 time would have been ideal, but considering how exhausted I was, finishing was satisfying enough. When I read 04:55:34 on the clock however, I immediately forget about how much everything hurts and make my way around the last bend at a pace I haven't managed since mile 15. Seeing my girlfriend smiling and clapping as I crossed the finish line in 04:58:30 gives me the best feeling I've had all day, right before I'm handed my finisher wooden "metal" and a fleece blanket to cocoon myself in. After encouraging pats on the back and an "atta­boy" cadbury egg from Hannah, I am contented to wait on the ground until my dad finishes.
And here are Mike's top tips for taking on your next big run.
1) Practice similar course conditions: look at the course layout and if there are hills, run hills. If it's flat, run hills anyway (great conditioner for speed and endurance).
2.) Become a creature of habit when it comes to diet. It's important to load up on carbs before the race or even a longer training run, but it's equally important to find food that works for you. Find a good pasta or pizza dish that won't give you a rumbly tummy the next morning and never try something wacky before race day. Just as important as complex carbs are making sure you are balancing that with veggies, fruit, and lean protein.
3.) Fluids. Making sure you are well hydrated is essential. There will be water stops every 2-3 miles along the race course but its extremely important that you know what works for you before and during your run. If you think you may need a little extra, bring a bottle with you during training runs and experiment. When it comes to H20, it's always better to be a little over prepared than to be relying on the water stop 2 miles down the road.
4.) Rest. Most of us don't get more than 6-7 hours of sleep a night on average, but when it comes to the night before your marathon, you'll need every minute of it. 26.2 miles takes one heck of a toll on your muscles and your spirit, so having a well rested mind and body to cope with that sort of stress will be a huge help.
5.) Have fun! You've spent months getting ready for the longest distance you've ever run. Now that race day is here, you'll be surrounded by amateurs and veterans alike and each one of them is probably just as eager/nervous. Strike up conversation, make connections with those around you and get excited! Remember when you're at mile 20 and you're legs and lungs are burning that you are so close to finishing! And when you finally cross the finish line, it will be one of the best feelings after so much hard work. Now that you're finished, grab you're favorite comfort food/drink and celebrate because you damn sure earned it.
Bonus!
For mileage I would say its Important to get at least 2-3 16-20 mile runs in before 2 weeks out. That mileage to give someone who is inexperienced an idea of the physical and mental stress of a 3+ hour run and that time frame to make sure they have time to heal before race day.